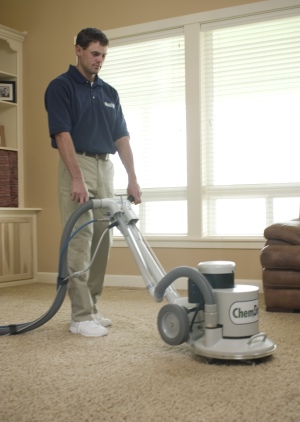 McGEORGE BROTHERS CHEM-DRY CARPET CLEANING
McGeorge Brothers Chem-Dry provides quality carpet cleaning for homes and businesses in Kern County. We have been serving Kern County for over 30 years. We have a team of fully qualified professionals ready to serve you. With our advanced equipment, your carpets will be clean and dry within a couple hours. You won't have to wait days for your carpet to dry like with other carpet cleaning companies.
CHEM-DRY REPUTATION
When it comes to carpet cleaning, Chem-Dry is the world's leader, by cleaning an estimated 1 billion square feet of carpet each year! The secret is our effervescent, carbonating cleaning solution, which requires much less water than steam cleaning. Our solution is all natural and safe for kids and pets.
THE CARPET CLEANING PROCESS
Instead of using large amounts of water, we use a special cleaning solution, called 'The Natural'®, and a process that allows for a better clean using very little water. It is an effervescent hot carbonated cleaning process that leaves your carpets clean, fresh, and dry in about 2 hours. If you have ever used club soda to remove a stain, you know how the carbonating principle works. We have merely perfected it for carpet. Our solution creates a powerful carbonating reaction that deep cleans carpets in a safe and gentle way. We let the bubbles do the work for us. We don't need to use gallons of harsh soapy chemicals like other companies often use. You will love our dry carpet cleaning method. Our powerful extraction equipment finishes the job leaving carpets clean and dry. After your carpets are cleaned by McGeorge Brothers Chem-Dry, they will be 100% safe and non-toxic for children and pets.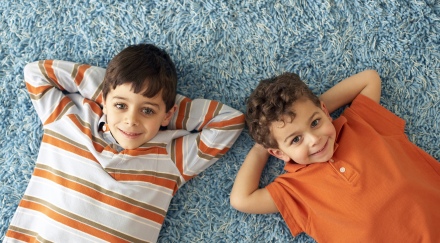 100% SAFE AND NON-TOXIC CARPET CLEANING
Chem-Dry's revolutionary carpet cleaning process uses carbonation and ingredients copied from Mother Nature for its core carbonating cleaning solution, The Natural. It is 100% safe for kids and pets. It's called The Natural not just because it has an innate knack for getting out the toughest stains, but because it is made from ingredients whose equivalent can be found in nature. This carbonated cleaning solution requires less water than typical steam cleaning and works harder than most chemical-based carpet cleaners because it literally explodes the dirt and grime off of the carpet fiber surface. And because The Natural does not contain any soaps, detergents, or any other harsh chemicals, so no soapy residues are left behind to attract dirt.
DRIER. CLEANER. HEALTHIER.
DRIER. Since the McGeorge Brothers Chem-Dry cleaning process uses 80% less water than typical steam cleaning, carpets dry within hours, not days. So you and your family can get back to enjoying your home sooner. Our dry carpet cleaning process is unique to Chem-Dry.
CLEANER. Just like club soda, our primary solution is carbonated and penetrates deep into your carpets fibers, giving you the most thorough clean. It doesn't contain harsh chemicals, so no dirt-attracting residue is left behind and carpets stay cleaner, longer. With regular steam cleaning, dirt often wicks back up the carpet fibers, because of all the moisture and dirt left behind, which can leave the carpet looking dirtier than it was in the first place. Since Chem-Dry uses a dry carpet cleaning method, you won't see dirt wick back up after it is cleaned.
HEALTHIER. Our low-water, faster drying clean means less risk of mold and mildew growth under your carpet that can result from the excessive water used by most steam cleaners. And our main carpet cleaning solution is completely safe and non-toxic for your family and pets. That adds up to a healthier, safer carpet cleaning that lasts.