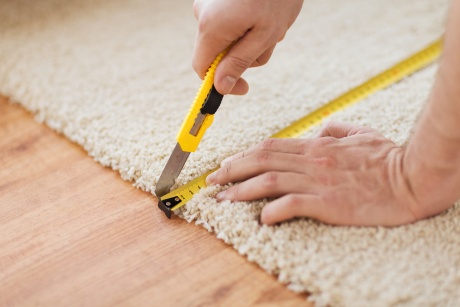 If you have carpets that are in need of repair or stretching, we will be happy to fix them. Over time, carpets can get worn out on pathways, burn spots and unremovable stains can occur, edges can separate, sections can get shredded, and waves can appear. If you have any of these issues with your carpets, give us a call. In many cases, your carpet can simply be repaired for a much smaller price tag than replacing the whole room with new carpet. We will work with you to repair and restore your carpets to the best possible condition.
If there are spots in your carpet that cannot be cleaned or the carpet is missing, we can patch the spot to cover up the embarrassing spot. If your carpet is faded, the patch of new carpet may not look perfect, but it will be much better than it was.
If you have carpet edges separating, lifting up, and getting shredded, we can fix that too. We will repair the carpet so it is fastened and sealed to the floor as it is supposed to be. No more tripping over carpet that is curling up. It is advisable to repair these problems as soon as possible. Otherwise, they will continue to get worse and spread.
Waves and folds can appear in your carpet over time as it wears out and perhaps wasn't installed correctly. When this happens, we can stretch your carpet so it fits perfectly and no longer causes waves and ripples. It is safer and looks better. Give us a call for an estimate!