Eliminate Pet Urine Odors Forever
If not treated properly, the odor from pet accidents can travel through the entire home and impact your health and your happiness. The smell emitted from an accident area also often leads to repeat incidents in the same area until it is properly eliminated.
Pet urine in the carpet not only leaves an unsightly stain and an unpleasant odor, but it penetrates the fibers and contaminates both the carpet and the floor underneath. That's why it can require major restoration work, well beyond just a simple cleaning and treating. The longer an incident goes untreated, the more likely the urine odor is to permeate deeper and deeper into floors, walls and even the framework and foundation of the home. As the urine dries, the liquid evaporates but the urine crystals become even more concentrated and pungent. Simple cleaning will not remove this odor. Until recently, there wasn't a product available that that was effective at removing urine odors.
To help rid your home of the smells caused by pet urine, McGeorge Brothers Chem-Dry applies P.U.R.T. – specially designed to contain and eliminate pet urine odors. While most cleanings only masks the odor, P.U.R.T. goes to the molecular level and destroys the urine crystals to eliminate the odor.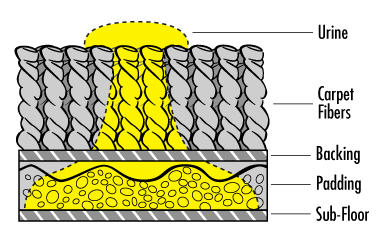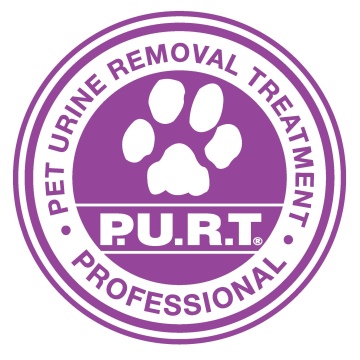 How P.U.R.T. Works
A trained professional will find the odor source and determine the best plan of attack. In worst cases they may need to pull up carpet for further inspection. If necessary padding will be replaced. Technicians may even have to apply an odor blocking resin to the sub-floor. After all prep work is complete, carpets are rinsed. Any liquid or loose urine crystals are then extracted using hot water.
P.U.R.T. is then applied generously to tack strip, sub-floor, baseboards and the carpet backing.
Over the next 24 – 36 hour P.U.R.T. will go to work breaking down all the odor causing elements, leaving no remnants behind for a fresh smelling, healthy carpet.
Once the P.U.R.T. process is complete, we recommend you follow up with our all-natural carpet cleaning solution to make certain you are giving your entire home the deepest, longest lasting, healthiest clean possible.
We care about your home's and your family's health. That's why P.U.R.T. and our other healthy home cleaning products are completely safe and non-toxic for children and pets. Our goal is a healthier, longer lasting clean for a happier home.